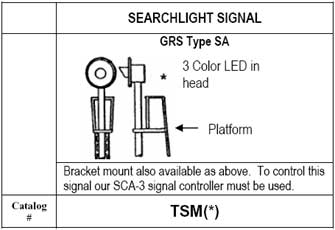 Signal Features
Rugged brass construction with lost wax castings, injection molded signal heads and 3/32″ brass tubing for the mast. We manufacture single and multi-head signals, bridge signals, dwarfs, brass cantilevered bridge kits, and signal platform kits for double tracks.
Design is based on General Railway Signal or Union Switch & Signal Company's drawings.
The signal heads are ready for installation, fully assembled and painted with color-correct LED lamps installed and sealed in place. Thin wires, 14 inches long, extend from the bottom of the signal head and are concealed either inside the mast or run down a bridge support. No fuss soldering wires to LEDs or sealing the LEDs into the sign heads.
The signal (assembled or in kit form) will be designed to your specifications as to type of signal, mast height, type of base, style of finial, position of the head on the mast, type of maintenance platform, and of course the style and number of heads.
Signals are easy to install on your layout. The 3/32″ mast extends about 1-3/4″ below the base. Merely drill a 3/32″ hole through you roadbed support, drop the signal in place, and connect the wires.
The ISS system is designed to prototypically signal diverging routes, passing sidings, and interlocking situations, and will operate similar to the prototype, indicating speed / route.