Bridge signals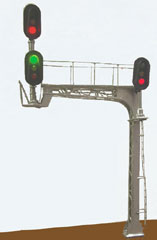 are designed for installation on our cantilevered signal bridges, our bracket posts (signal platform) or on any gantry or cantilevered signal bridge that you may have purchased elsewhere. We manufacture signal kits for bridges with the following types of signal heads. All types are supported on a short mast which is mounted on top of the signal:
Type D – one, two or three color Type G – one or three color
Type SA – searchlight type B&O and Pennsy types
Multiple heads – two or three of the above listed types can be mounted on each mast.
Our bridge kits include:
The signal head
A short mast
A finial (top cap)
A service platform if more than one head is required
A ladder to the service platform
Brackets for mounting the head to the mast
A pair of brackets or a flanged base to mount the mast to the signal bridge
We sub-assemble the head mounting bracket to the short mast and drill the hole in the mast or the wires, if the position of the head is specified. The mounting of the short mast to our bridge is left to you, but we supply a pair of brackets and a flanged base. Bridge signals are controlled in the identical manner as out mast signals.
C & O Cantilever w/ Signal Heads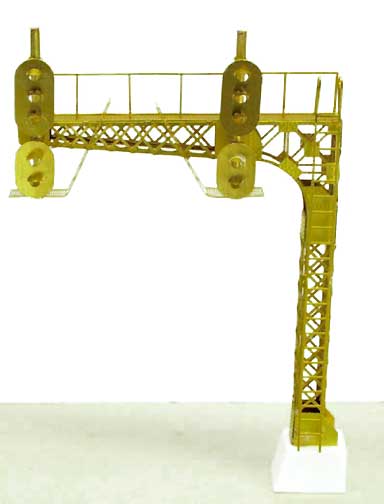 Cantelever w/ Target Signals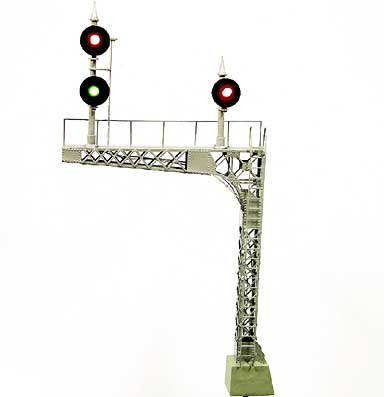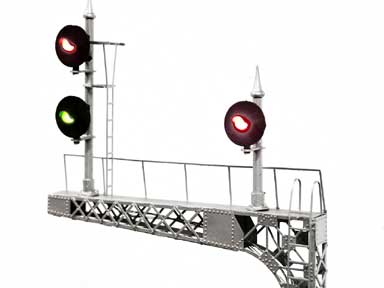 Signal Bridge